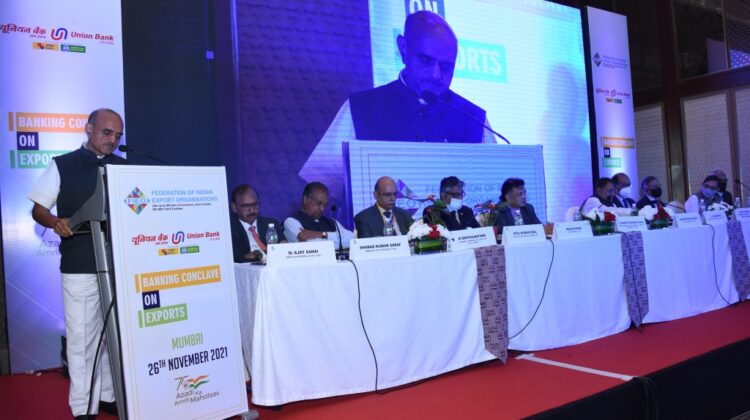 Formation of groups to address specific challenges faced by exports sector with regard to banking: Dr Bhagwat K Karad, Union MoS, Finance

---
MUMBAI : Speaking at the "Banking Conclave on Exports" organised by FIEO in Mumbai, the Union Minister of State for Finance, Dr Bhagwat Kishanrao Karad highlighted the importance and role of the banking sector in promoting and facilitating exports. He informed that the several reforms related to the banking sector have taken place in the recent past, and all the banks have implemented it in a successful manner. He informed that the Government is keen on extending the due support to the trade, and therefore the decision on the extension of Emergency Credit Line Guarantee Scheme (ECLGS) was taken well in time. He assured that the Government is open for discussions and meetings to understand the challenges faced by the exporters, so as to strengthen and support the export trade.
Mr Nandkishor Kagliwal, Regional Chairman (WR), FIEO said that the banks have to play a role of key catalyst for exports, as the gap between the current exports and the set targets, may only be achieved through the seamless support from the banking sector. Most of the banks have already taken appropriate steps to ensure that the speed of the working capital cycle of exporters can be increased through extending timely and sufficient working capital requirements.
Mr Khalid M Khan, Vice-President, FIEO highlighted important issues, with respect to merchanting trade transactions (MTT) wherein the RBI's clause of being MTT in line with the prevailing Foreign Trade Policy is a constraint. He also highlighted issues related to shipments via Chabahar port.
Dr Ajay Sahai, DG & CEO, FIEO, focussed on important challenges with respect to Increasing Demand for Exports Credit, Pre-Shipment Credit on Export Order/LC, Continuation of Interest Equalization Scheme (IES), Restrictions on opening of current account, Challenges for E-Com Exporters, Third Party/Third Country Payment, Iran & OFAC Countries, Factoring, Niryat Rin Vikas Yojna (NIRVIK), Updation of EDPMS, Gold Card Scheme, Problems of collateral, Post-shipment advance against GST receivables in addition to duty drawback entitlement, Issuance of e-BRC for set-off of export receivable from import payable, High charges on ACU transactions and High transaction charges in ecommerce shipment.
Mr Atul Kumar Goel, MD & CEO, UCO Bank & Chairman,IBA informed everyone that the banking sector is strongly standing for exporters and they are looking positively into the challenges faced by the export trade. He also informed that the transactions related to Iran are seamlessly handled by the UCO Bank, and the banking sector as a whole has been trying its best to smoothen the processes.
The Minister announced formation of various groups to address the problems raised by FIEO and other stakeholders consisting of FIEO, leading banks, IBA, Ministry of Commerce and Ministry of Finance including one on challenges of e-commerce retail exports.