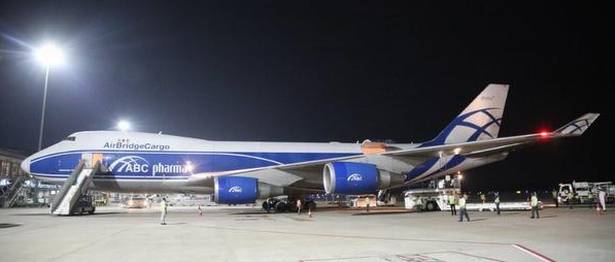 GMR Hyderabad Air Cargo handles big consignment of Sputnik V Covid-19 vaccines
HYDERABAD : The 56.6 tonnes vaccine shipment is the single largest import shipment handled in India
GMR Hyderabad Air Cargo (GHAC) today received a major import shipment of Russian Sputnik V vaccines that arrived on a specially chartered freighter RU-9450.
The flight with vaccines touched down at Hyderabad Airport at 03.43 hours.
subscribers exclusiveSubscriber Exclusive
alt_text
National
Is Centre's vaccine allocation to States equitable?
alt_text
Personal-Finance
What you should know about Covid death claims under ESI and EDLI schemes
alt_text
Flight-Plan
Aviation: past gloomy, future tense
alt_text
Clean-Tech
LIGHT AND SHADE
The goofed-up story of rooftop solar
While GHAC has already handled several import shipments of vaccine prior to this, today's shipment of 56.6 tonnes of vaccines is the single largest import shipment handled in India till date. This shipment was dispatched in less than 90 minutes.
This is a huge consignment of about 30 lakh vaccines, sources said.
Finance Minister Nirmala Sitharaman tweeted Hyderabad Customs expeditiously cleared the 3rd and the largest shipment of 56.6 MT of Sputnik Vaccines.
The Sputnik V vaccine requires specialised handling and storage, requiring it to be kept at a temperature of -20° C. GHAC has been working closely with the experts from the customer's supply chain team, officials from customs department and other relevant stakeholders to ensure that the necessary infrastructure and handling processes are in place for smooth handling of the vaccine shipments.
Major pharma companies in and around Hyderabad are expected to produce or import over 3.5 billion doses of Covid vaccines over the next couple of years and GHAC has been gearing up on all fronts to handle the surge in vaccine shipments, according to a statement.
GHAC has also convened a special task force comprising of authorities from Customs, airlines, freight forwarders and other stakeholders to ensure priority handling and swift clearance for vaccines and other Covid relief materials.
Source : The Hindu Business Line