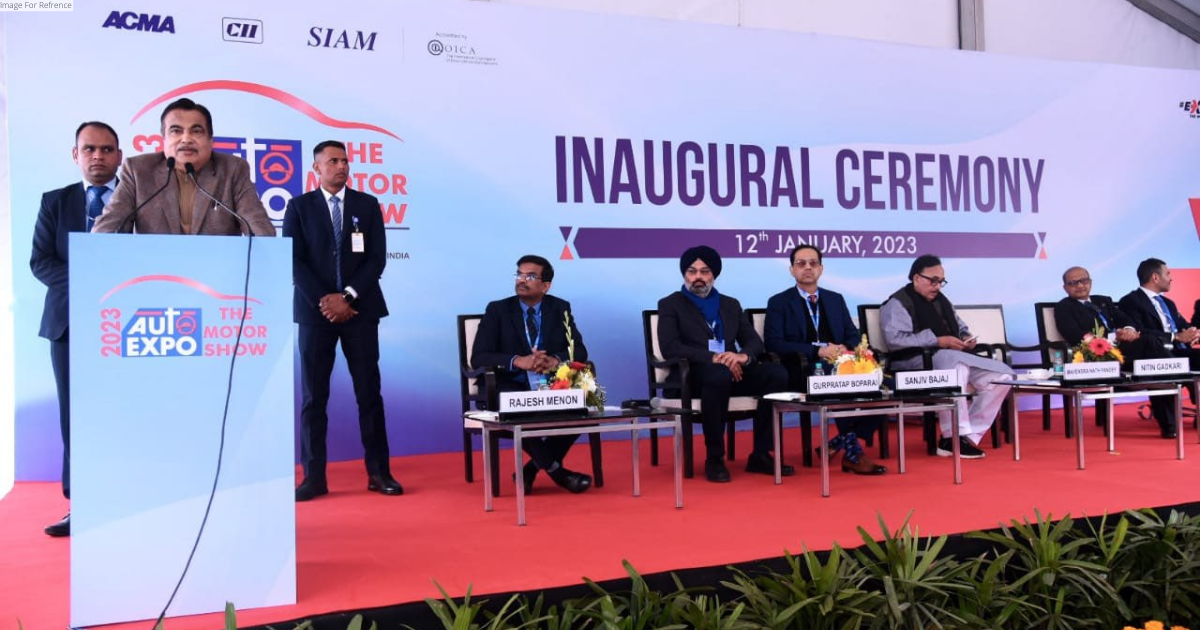 India can be exporter of energy from importer : Nitin Gadkari 
GREATER NOIDA : Union Transport and Highways Minister Shri Nitin Gadkari on 12 January has said at the ongoing Auto Expo 2023, that the country is seriously thinking about alternative fuel and the country needs leadership from the industry side who can convert "problems into opportunity". He further added that India has the potential to become an exporter of energy.
While speaking Gadkari added, "We can run our railway, our aircraft, truck and busses on green hydrogen. Today we are the importer of energy, but with your research (auto industry) and planning, India will be the exporter of energy."
"India is the fastest-growing economy in the world and we can name the automobile industry the growth engine for it. The auto industry will play a prominent role in the process of realizing PM Modi's dream of Atmanirbhar Bharat," he said.
He also highlighted that the industry should be more accountable regarding road safety and eco-friendly manufacturing. "Being awakening citizens of the nation we have to make this mobility sector more sustainable by promoting the use of Flexi fuels instead of fossil fuels. In the same way, the industry should be more accountable regarding road safety and eco-friendly manufacturing," he said.
"I hope this expo can play a critical bridging role between auto-industry and a sustainable future by assuring clean energy and at most safety for commuters," he said.
Citing the recently approved National Green Hydrogen Mission, he said the government has allocated about ₹20,000 crore for the green hydrogen ecosystem.
Union Cabinet last week approved the National Green Hydrogen Mission, which aims to make India a global hub for the production, utilization, and export of such technologies. Under this mission, the government aims to raise annual green hydrogen production to 5 million tonnes.
The green hydrogen mission will gradually lead to the decarbonization of industrial, transport, and energy sectors; and a reduction in dependence on imported fossil fuels, among others. India meets a sizable portion of its energy needs through imports, and this green hydrogen mission is seen as an avenue to reduce the dependence of imported fuel.
Further, regarding road accidents in India, the minister said the aim is to reduce the accident by 50 per cent before the end of 2024. Gadkari reiterated that India's road infrastructure will be equivalent to that of the US.
"It is my promise. My suggestion is that we have to make preventive measures for safety. The economy is equally important but safety is more important," the minister added.
Earlier, Union Heavy Industry Minister Shri Mahendra Nath Pandey said that as per the progress of battery manufacturing in India, the country will soon be able to export batteries which is majorly dominated by China and Malaysia.
China and Malaysia hold 85 per cent and 7 per cent market of battery. Rest 8 per cent is dominated by US, France, among others.
"India has launched PLI scheme for battery and the target was to produce 50 Gigawatt battery. We are very near to achieve this target and now if we see the waiting list we found that India is able to produce 108 Gigawat. I can say that India will not only able to to become self reliant in battery but will become exporter in the battery field," Pandey said.
As part of its Atmanirbhar plan, the Government launched Production Linked Incentive (PLI) schemes in varied sectors to make Indian manufacturers globally competitive, attract investments, enhance exports, integrate India into the global supply chain and reduce dependency on imports.