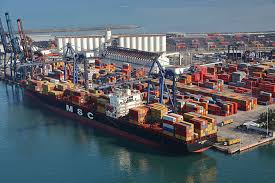 India shipping operations run into disarray as cyclone makes landfall
SINGAPORE : Shipping operations for commodities ranging from oil and coal to consumer goods and textiles will be delayed in the week ending May 22, as the cyclone Tauktae raged past India's western coastline, trading executives, port officials and refiners told.
Naval ships and aircraft have been deployed to evacuate hundreds of personnel from oil barges and a rig while the bunkering operations have also been severely hit.
Even though the landfall of the dreaded cyclone has already happened, its gradually fizzling out and most ports will resume operations by midnight May 18 or early May 19 but by the time all logistics are up and running, a few days of delay in loading and unloading cargoes and ship bunkering is projected by those directly involved in this work.
There has been disruption in unloading of crude as ships have been to lift the anchor and go off the coast, said a VLCC broker. Ships planning to discharge crude for state-run BPCL in Kochi will be delayed, he said.
India imports around 4 million b/d crude, equivalent to two VLCCs daily. The country also on an average imports 20 million mt tons of coal each month, all grades combined. This implies that volumes equivalent to 372 supramaxes reach Indian ports each month.
Unloading of coal is particularly affected in Navlaki, Kandla and Mundra, one of the traders said. As a precautionary measure, most ports along India's coastline were closed from earlier this week and now operations are being opened up in gradual phases, spanning several hours, sources said.
According to brokers, shipping agents and stevdores, some of the loading and unloading programs for this week on ports in western India, are likely to spillover to the weekend and early next week.
Shipping operations at some western ports was halted as a precautionary measure and should resume unless there in big impact on infrastructure, a source said at IOC, India's largest state-run refining company by volume.
Oil rigs and barges
Most of the oil and port infrastructure is intact but a barge, the Gal Constructor, with 137 persons onboard had run aground, near Mumbai. Indian Navy is undertaking evacuation operations, it said in a statement. Similar operations were also conducted from Barge P305, it said.
INS Talwar is proceeding to render assistance to oil rig Sagar Bhushan with 101 personnel onboard and an accommodation barge SS-3 with 196 personnel, both of which are adrift southeast of Pipavav Port.
Such incidents notwithstanding, commercial activity is likely to be normal by May 19-20, sources said.
Echoing similar sentiments, a source at Nayara Energy said: "Oil loading and unloading operations will delayed by a couple of days because of the cyclone." Nayara runs a refinery in the western province of Gujarat.
Bunkering, Colombo gains
Due to the cyclone, there are increased number of inquires, said a bunker trader in Colombo. Usual daily bunker trading volumes rose to 4,000 mt from 1,100 mt, he said.
Mumbai delivered Marine Fuel 0.5% sulfur prices rose to $546/mt on May 17 compared to $538/mt on May 14.
This compares to Colombo, where price of the same grade was at $545/mt on May 17, steady compared to May 14, according to the data.
There is an uptick in inquiries in Bangladesh as well and prices are higher due to low availability, another trader added.
All vessels doing cargo operations had to shift to anchorage, floating signals were removed from the sea, resulting pre-planned bunkering operations nominated at these ports being cancelled, he said.
"Those vessels coming for this laycan are waiting at anchorage," another supplier said.
However, the impact on bunker prices is likely to be limited as the cyclone is already fizzling out.
While Mundra, New Mangalore and Kochi ports are already starting to open up, Sikka and Mumbai are likely to do the same over the next few hours, shipping executives tracking the developments said.
Ships in Kandla have been advised to come to anchorage while Vadinar is expected to resume operations by the end of May 18, they said. Hazira and Dahej are experiencing heavy rainfall and strong winds, so port activity may resume only by May 19, sources said.
Containers
At Jawahar Lal Nehru Port Trust, or JNPT, one of India's largest container handling port, all ships are stacked away from the cyclone's path and secured properly, sources said.
Source : Platts