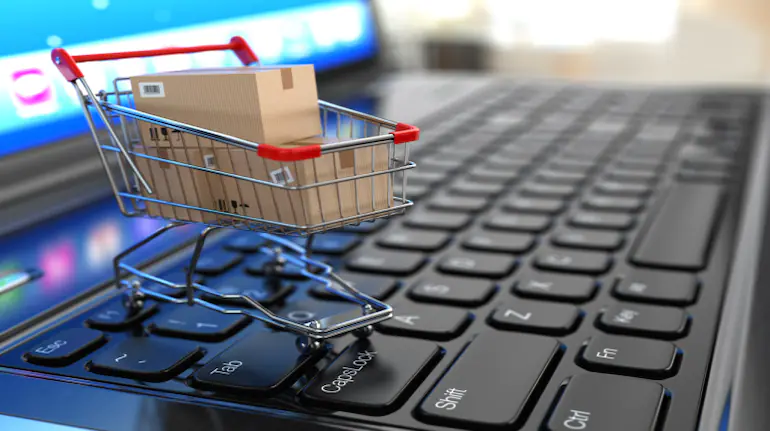 India should target $350 billion exports through e-commerce by 2030: GTRI
NEW DELHI : India should target USD 350 billion worth of goods export through e-commerce by 2030 and for that the government needs to address pain points of the sector by taking steps like formulating a separate policy, a report by economic think tank GTRI said. The Global Trade Research Initiative (GTRI) said the current e-commerce export provisions in India are a patchwork over the rules framed for regular B2B (business-to-business) exporters.
India's e-commerce exports have the potential to grow at a faster pace than its IT exports did in the early 2000s, it said. With Global business-to-consumer (B2C) e-commerce exports estimated to grow from USD 800 billion to USD 8 trillion by 2030, India's strengths in high-demand customized products, expanding seller base, and higher profit margins per unit of export place it in a prime position to benefit from this trend.
GTRI has identified 21 action points for accelerating the country's exports through online medium. India's current e-commerce export numbers remain far below their potential. Currently, e-commerce exports account for only USD 2 billion, less than 0.5 per cent of the country's total goods export basket. "The country must plan to export USD 350 billion, or about one-third of its total goods, through e-commerce by 2030. This will require focus on developing the ecosystem for e-commerce exports to fully realize its potential," the report said. It added that the current export provisions for the medium creates an enormous compliance burden on small firms.
To address such needs, the report recommends that the government issue a separate e-commerce export policy. Such policies in countries including China, Korea, Japan, and Vietnam, have helped many firms sell globally. As the needs of the e-commerce export sector are vastly different from the regular export sector, the e-commerce export policy should be an independent document addressing all pain points faced by exporters.
It added that this policy should be jointly issued by the RBI, customs, and the Directorate General of Foreign Trade (DGFT) after making necessary changes to their regulations. It should include provisions for business development, easing regulatory burden, and setting up a national trade network. The GTRI suggestions include redefining responsibilities of sellers; simplifying payment reconciliation and processes; developing business ecosystem; and setting up of a National Trade Network for the medium.
Small and medium-sized firms rely on online platforms for global exposure and value- added services, such as timely payment assurance. However, it said that this conflicts with FEMA (Foreign Exchange Management Act) regulations as the platform is responsible for receiving payment, while the ownership of goods remains with the seller.
Compliance procedures can be challenging for small sellers due to high sales volume. The report added that payment reconciliation is a major roadblock for third-party e-commerce exporters and the RBI guidelines for B2Bexports need changes to accommodate B2C exports. To simplify payment reconciliation, it suggested more time to receive export proceeds, lower restrictions on receipt of export proceeds, annual financial reconciliation process; and simplification of forex payments.
"A 25 per cent reduction cap is too restrictive for e-commerce sales that involve discounts and returns. Exporters need flexibility in keeping annual turnover, and restrictions per consignment should be removed," it said. The report also recommended raising the value cap for e-commerce exports from Rs 5 lakh to Rs 25 lakh to allow exporters to choose the shipment mode as per their business requirements.
"As most trade is shifting to global value chains requiring timely deliveries, exporters must be allowed to choose the shipment mode as per their business requirements. China has created an efficient and seamless logistics system to ship goods to global customers," it added. Besides, the government should create a separate customs code of such shipments, exempting import duties on rejects and treating reimports as duty-exempt imports in line with global practices to reduce costs and expedite the delivery of merchandise, and allowing these exporters to claim GST refunds.
"India should focus on developing market intelligence, organizing training for artisans, and facilitating the fulfilment of export orders for high-potential product categories such as handicraft, jewellery, ethnic wear, decorative paintings, and Ayurveda," it said. Regarding setting up the network, it said, this will bring together the RBI, Customs, DGFT, GSTN, India Post, courier companies, platforms like Amazon and eBay, and the user to create a central technology platform that streamlines the entire process.
GTRI Co-Founder Ajay Srivastava said that the internet, technology, and secure online payments have made exporting via e-commerce simple and safe, enabling small firms from a wide range of cities and regions to participate in international trade. Over 100,000 Indian sellers are already exporting through e-commerce, and this number is set to multiply. "Exporting through e-commerce channels can result in higher profits per unit of export, as businesses can cut out intermediaries like indenting agents, bulk buyers, and shopkeepers," he added.