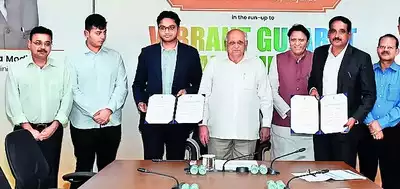 IT SEZ with investment of 8,000 Cr to come up in Ahmedabad
AHMEDABAD : Gujarat will soon get a sprawling IT Special Economic Zone (SEZ) with a committed investment of Rs 8,000 crore. Being set up by Ahmedabad-based developer, Ganesh Housing Corporation, in collaboration with US real estate development and investment firm Tishman Speyer, the SEZ, called "Million Minds Tech City", will come up on 65 acres near Chharodi village along SG Road in Ahmedabad.
A memorandum of understanding (MoU) was signed between Ganesh Housing Corporation and the state government for this in the presence of Gujarat CM Shri Bhupendra Patel on Wednesday. The MoU was exchanged between Ahmedabad Municipal Commissioner M Thennarasan and Shekhar Patel, MD of Ganesh Housing Corporation. It envisages an investment of Rs 5,000 crore and will commence by 2026.
The MoU says the state government will facilitate the necessary permissions and clearances from the concerned departments of the state, according to existing policies.
Apart from office space for IT and ITes companies, the project will have dedicated residential, commercial and hospitality spaces. Ganesh Housing Corporation has partnered with Singapore-based architecture firm RSP Engineering to execute the project..
The dedicated SEZ campus will have 80 lakh square feet of space for IT and ITes offices in addition to 53 lakh square feet of residential space, 5 lakh square feet of neighbourhood malls and other amenities and 2 lakh square feet of hotels and serviced apartments, the company said in a statement.
"The service sector is the fastest growing sector in India and contributes 58% of the country's GDP. The sector accounts for just 38% of the GSDP in Gujarat, showing the vast scope for further development here. Looking to make Million Minds Tech City the Silicon Valley of Western India, the SEZ is an opportunity for IT companies who wish to move from saturated metropolitan cities to emerging markets like Ahmedabad. This will put Ahmedabad on the global IT map," Patel said.
The total investment will encompass land and construction costs of Rs 7,500 crore and other expenditure of Rs 500 crore, the company said. It will create direct employment for 1.6 lakh people in addition to indirect jobs for 40,000. The SEZ project is expected to be completed in seven years, sources said.
Companies such as Apple, IBM, SAP, HCL, eInfochips, Oracle, Google, Amazon, Meta, LinkedIn, TCS, Tech Mahindra and Infosys will be approached to set up offices in the SEZ.
The Central Bureau of Investigation (CBI) in India has seized over $930,000 worth of cryptocurrency from an Ahmedabad-based man accused of cheating a US citizen. The man allegedly posed as a senior executive from Amazon's fraud department and convinced the victim to transfer cash into Bitcoin. The CBI found 28 Bitcoin, 55 Ethereum, 25,572 Ripple, and 77 USDT in the man's e-wallet, which has been transferred to the government's wallet. Two accomplices of the accused have also been implicated in the case.
Despite being recognized as India's first UNESCO World Heritage City, Ahmedabad's civic body has failed to preserve its heritage houses. In the past two years, 10 out of 25 dangerously dilapidated heritage buildings have collapsed, while the rest have been ignored. The Ahmedabad Municipal Corporation (AMC) categorized 237 buildings as dangerous, and 136 have been demolished or collapsed. Although the AMC has a heritage property restoration policy, only 57 buildings have been restored. Lack of interest and involvement from the AMC officials, along with the conversion of heritage houses into commercial-cum-residential buildings, are causing the loss of heritage properties.