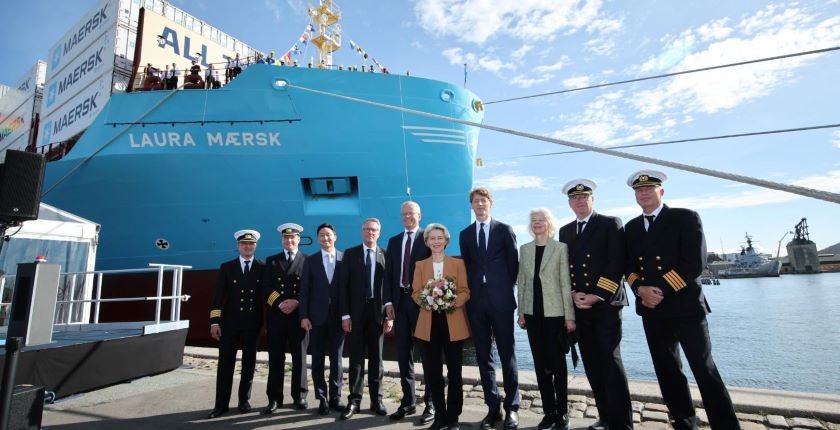 'Laura Maersk'-first container ship powered by green methanol sets sail
COPENHAGEN : The new ship, Laura Maersk, is the world's first container vessel equipped with a methanol propulsion system. The ship's godmother is the President of the European Commission Ursula von der Leyen, who pressed the button and broke a champagne bottle on the ship's bow during the launching ceremony in the port of Copenhagen.
Maersk has ordered another 24 methanol-powered ships, with deliveries scheduled from next year through 2027. The company earlier vowed to order only new vessels that have a green fuel option.
The new container ship was constructed in South Korea. It has 172 meters in length and the capacity to transport 2,100 TEU (twenty-foot equivalent units), a standard measure for shipping containers.
The ship features dual propulsion. Namely, the company intends to use green methanol, but there is also the option to use conventional fuel when necessary. With its methanol tanks filled, the ship can travel approximately 11,000 kilometers. For the initial period, Maersk procured biomethanol that was produced from methane captured at landfills. It counts as low-carbon fuel.
Maersk also reached an agreement with European Energy for an annual supply of up to 300,000 tons of e-methanol starting in 2025/26. It is produced from low- Carbon hydrogen obtained through electrolysis and carbon from carbon dioxide that was emitted in industrial production processes and captured.
Laura Maersk came to its inauguration from a shipyard in South Korea.
The transformation of the global cargo ship fleet using clean-fuel propulsion systems
According to Eurostat's data from May, Maersk had a fleet of 682 container ships with a total capacity of 4.13 million TEUs.
A.P. Møller – Mærsk controls approximately 15% of the global container shipping market. It has an ambitious target to cut net greenhouse gas emissions to zero by 2040.
Methanol is fuel for decarbonizing maritime transport
Methanol has significant potential for decarbonization and as an alternative fuel for ships. It is easy to handle and move, as it is in liquid form. Moreover, it can be stored and filled at atmospheric temperature and pressure.
Methanol doesn't take up much space on board a ship, unlike batteries and hydrogen tanks. Methanol tanks require fewer safety precautions than hydrogen and ammonia.
Additionally, it doesn't jeopardize the environment much, it's not highly toxic like ammonia, it is more energy-efficient than other green fuels and can be used with existing infrastructure.
However, green methanol production is more expensive than conventional methanol, which is obtained from coal or natural gas. Biomethanol can also be made by gassifying biomass waste.
IMO mandates the shipping industry to reduce emissions by at least 40% by 2030
The International Maritime Organization (IMO) gave the green light in 2020 for the use of carbon-neutral methanol as a fuel. It published guidelines for decarbonizing the maritime transportation sector, which is responsible for approximately 3% of global emissions.
The IMO's strategy envisages cutting emissions in shipping by a minimum 40% by 2030, from the level measured in 2008, and by at least 50% by 2050. The agency is promoting the idea of total decarbonization by the end of the century.
All major shipping companies are ordering methanol-powered ships
In line with the goal, global maritime industry giants have already been ordering methanol ships, which bolstered the demand for the fuel.
CMA CGM from France is buying 18 vessels from China State Shipbuilding Corporation (CSSC) for USD 3 billion, as reported by Reuters. The shipbuilder is obligated to deliver them in 2025, the article adds.
COSCO Shipping Holdings has ordered 12 methanol-powered ships worth approximately USD 2.9 billion, which will be constructed at a shipyard in Yangzhou, China, by 2028.
HMM (Hyundai Merchant Marine) has ordered nine ships in South Korea, its home market.
COSCO and CMA CGM have signed memoranda for the procurement and supply of green methanol in major ports in China while Maersk has a similar agreement for its container ships.
Projects and facilities for supplying green methanol are already in preparation in Singapore, Melbourne, and Gothenburg.