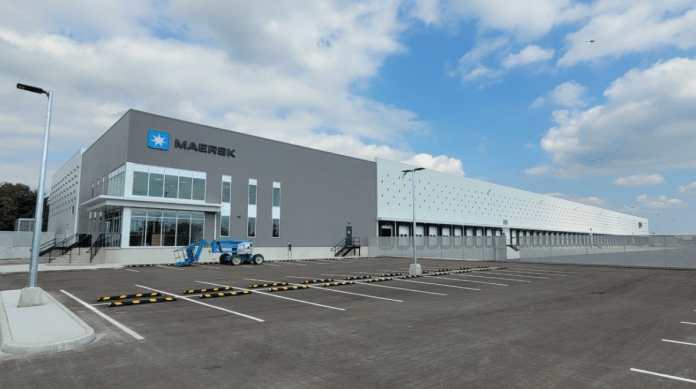 Maersk and Canadian Pacific open transload facility in Vancouver

---
COPENHAGEN : Maersk and Canadian Pacific (CP) Railway have opened a new Pacific Transload Express facility in Vancouver aiming to ease logistics and relieve supply chain woes in North America.
The new facility of 10,869 m² and 103 doors was designed to make Asia/Pacific Northwest (PNW) supply chains more resilient and cost-effective, according to a statement.
The newly launched facility will help customers achieve overall cost savings for domestic distribution and reduce storage costs related to port demurrage and inland detention, thanks to the ability to transloading international containers into domestic 53-foot trailers.
The construction of the facility and rail infrastructure was completed last month with Maersk commencing the transloading operations of the facility on 1 September.
"We are transforming inbound logistics in North America by reducing transit time variability thanks to CP's premium service and at the same time having a smaller environmental impact and carbon footprint by taking thousands of trucks off the road while leveraging the inherent benefits of moving goods by rail," commented CP President and CEO, Keith Creel.
Furthermore, President of Maersk Canada, Omar Shamsie noted that "Bringing this new supply chain asset into play today marks an important new Asia/PNW gateway chapter for customers looking for faster order fulfilment achieved through integrated logistics."
Currently, transit times range from 35 to 75 days from Asia to North America from the factory – origin to a distribution destination – centre. With such a big variation, it is difficult for companies to plan supply chain management well, and due to that fact, most of them buy products in advance and build higher safety stock to mitigate the transit time fluctuation.
In response to this problem, Erez Agmoni, Head of Maersk North America's Warehousing and Distribution Product Development, stated that the new facility can help customers reduce the transit time variation from 35-75 days door-to-door to having the cargo at 35-40 days.
"This helps customers create a more precise and predictable supply chain that helps them reduce safety stock, saving money on inventory storage costs with this transload solution," explained Agmoni.
Moreover, the Pacific Transload Express facility integrates and extends the use of CP rail service direct from the three major Vancouver container terminals in order to reduce carbon emissions.
The new facility will eliminate over 100,000 truck trips per year in the Vancouver area, which translates to almost 60,000 round trips per year and save over 4,000 tons of carbon dioxide (greenhouse gas) emissions per year, which is equivalent to the CO2 emissions of 9,261 barrels of oil consumed.
Maersk Warehousing and Distribution will be the exclusive operator of the Pacific Transload Express facility which integrates with the company's 45 other locations in North America.
Source : Freightwaves.com
---