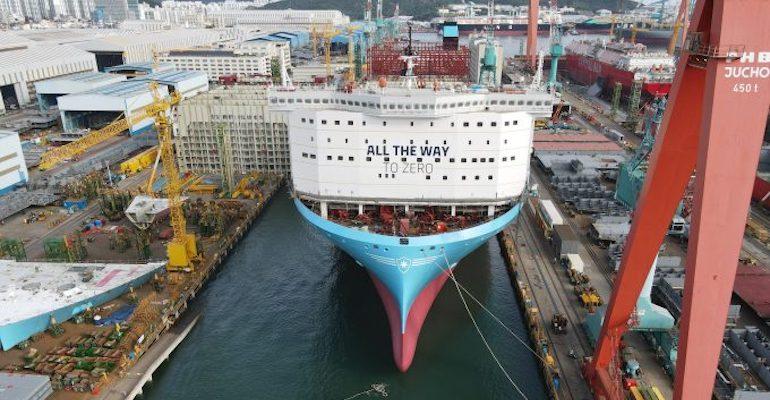 Maersk's first large methanol boxship floated out at HHI
COPENHAGEN : Maersk's world's first large 16,200 Teu-containership powered by methanol has been floated out of its building dock at Hyundai Heavy Industries.
The ship is the second of 25 dual fuel ships that Maersk has on order that will be capable of operating on green methanol.
The box ship is the first ship in a series of twelve 16,200 Teu-ships ordered by Maersk from Hyundai Heavy Industries. Maersk added a separate order with HHI for six 17,000 Teu-ships in November 2022. All 18 ships are scheduled to be delivered between 2024 and 2025.
Maersk placed an additional order for six mid-sized containerships 9,000 Teu in June at Yangzijiang Shipbuilding in China. The deliveries are scheduled for 2026 and 2027.
Maersk's strategy to transition its fleet to sustainable fuels includes exclusively ordering new vessels with a green fuel option. Maersk has set ambitious goals to achieve net zero greenhouse gas emissions by 2040 and near-term targets for 2030 to reduce the carbon intensity of its shipping and ports operations in accordance with the pathway outlined in the Paris Agreement.