Mawani and Bahri launch Europe-Asia Cargo Service Via Jeddah Islamic Port
RIYADH : The Saudi Ports Authority (Mawani) and Saudi Shipping giant Bahri have jointly announced the addition of a new freight service connecting Europe and Asia via Jeddah Islamic Port.
Besides growing Bahri's shipping network coverage and bolstering international supply chains, the new route is set to expand and empower the Kingdom's maritime connectivity while consolidating its leadership as a global logistics hub in line with the vision set out by the National Transport and Logistics Strategy (NTLS).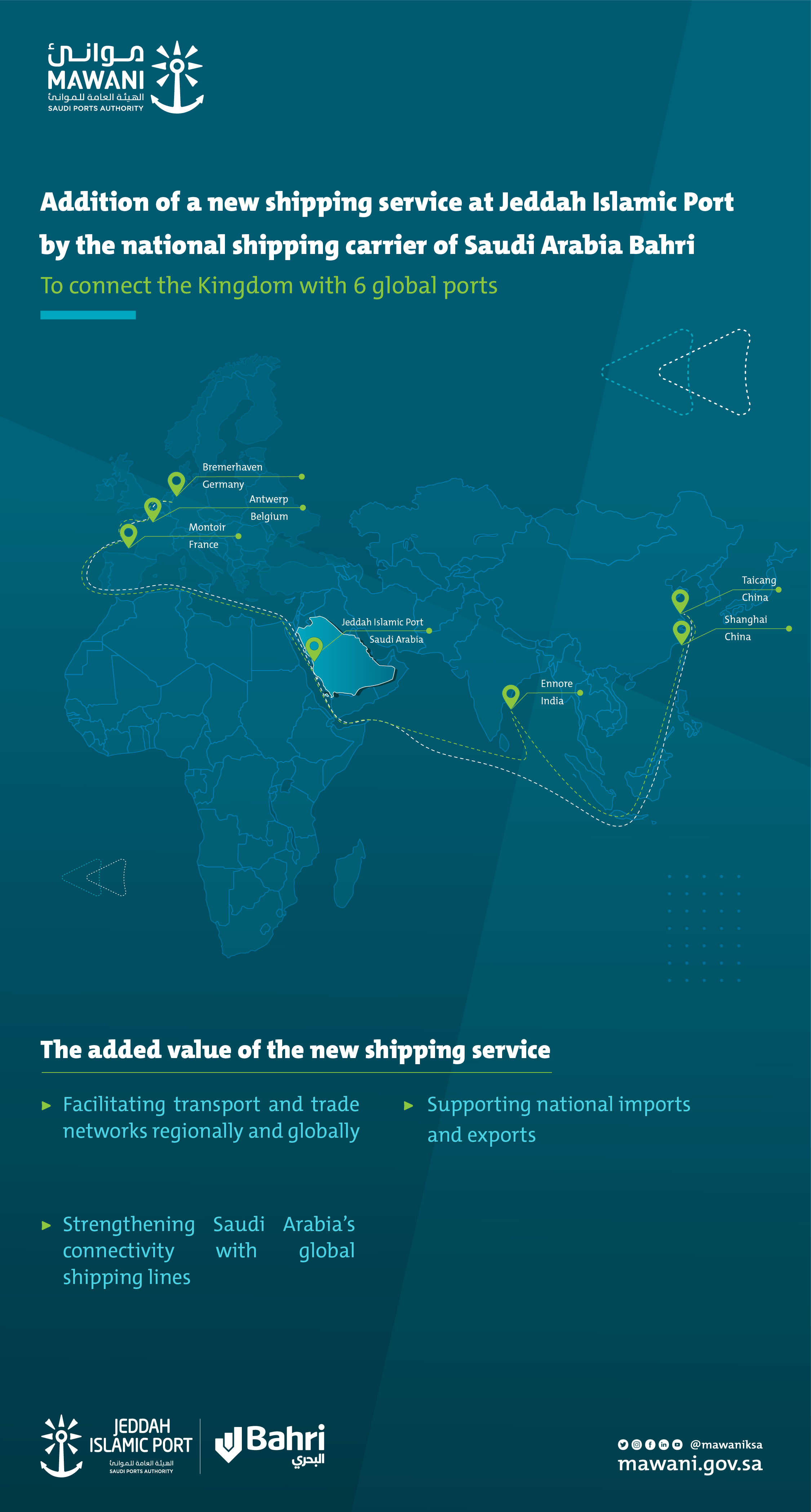 Vessels on the new service will set sail from the ports of Bremerhaven, Antwerp, and Montoir in Europe before calling at Jeddah enroute to the Indian port of Ennore, and the Chinese ports of Taicang and Shanghai. The Kingdom's busiest port is set to welcome the route's first ship in early February.
Mawani and Bahri had sealed an agreement last year to build a 95,436 sq. m. world-class logistics park as part of the national maritime regulator's drive to partner with major names in the industry to increase the footprint of purpose-built logistics facilities across the Kingdom to 30.
About the Saudi Ports Authority (Mawani)
Saudi Ports Authority (Mawani) was established in 1976 to oversee the operations of the Saudi ports. Since its inception, Mawani has been keen on transforming the Saudi ports into investment platforms and facilitating the Kingdom's trade with the rest of the world. The Authority seeks to achieve an effective regulatory and commercial environment supported by an operating model that enables growth and innovation in the Kingdom's maritime industry. It also envisions developing a sustainable and prosperous ports sector to consolidate the Kingdom's position as a leading global logistics hub. Mawani strives to realize Saudi Arabia's economic and social ambitions by ensuring reliable and efficient logistics operations, as well as creating a safe and sustainable maritime environment. Developing the Kingdom's industrial capabilities to fulfill the objectives of the National Transport Strategy in line with Saudi Vision 2030, has and will always be one of Mawani's main objectives, thus contributing to making Saudi Arabia a pioneer in the ports sector.