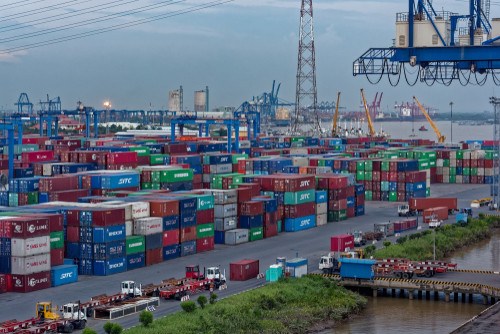 Operations in southern Vietnamese ports slow to a crawl with Covid-19 outbreak
Ho Chi Minh City is now the Covid-19 epicentre of Vietnam and the resulting lockdown of the country's commercial capital has slowed port operations in the southern part of the country.
Movement restrictions have been imposed in the southern Vietnamese city until 1 August, after thousands of Covid-19 infections were confirmed.
A spokesperson for Hapag-Lloyd told Container News that several factors, including the recent grounding of Ever Given in the Suez Canal and the bottleneck in China's Yantian terminal in Shenzhen, have also affected the situation in Vietnam.
The spokesperson explained, "Cargoes from Hai Phong (the main port of northern Vietnam) transship through Yantian. Hence, cargoes were diverted through Vung Tau in southern Vietnam. The Covid-19 outbreak at Yantian port, caused further disruptions to already pressurised vessel schedules. Many carriers had to apply blank sailing for feeder services and mainliners."
He added that besides Ho Chi Minh City, all container terminals at Vung Tau, including Tan Cang and Cai Mep, are congested, with many vessels waiting to berth.
The Hapag-Lloyd spokesperson noted, "The average waiting time at Vung Tau is two to three days. Many ships are at anchor off Vung Tau, with important domestic feeders / barges waiting to berth when a window is available."
He added that transportation of goods to and from the terminals in southern Vietnam has slowed due to strict Covid-19 controls and testing for workers and drivers.
"Currently, we do not face a shortage in trucking capacity, but this might happen soon too," Hapag-Lloyd's representative said.
In a customer advisory, Maersk Line said that containers are only allowed to gate-in 72 hours prior to estimated departure times, causing trucking capacity constraints. On certain corridors, drivers must present a negative Covid-19 test result, leading to extra costs and longer waiting times.
Maersk Line continued, "Higher cargo volumes will increase congestion at Ho Chi Minh City and Sihanoukville ports. Maersk will launch the first block-train intercontinental rail service from North Vietnam to Europe, offering an alternative to ocean with better reliability and improved transit-times."
The Hapag-Lloyd spokesperson also pointed out that all inland container depots (ICD) in Ho Chi Minh City are seriously packed, and the Covid-19 outbreak has slowed productivity.
He said, "The turnaround time of barges from ICDs to terminals in Vung Tau is heavily impacted due to the congested berth window at Vung Tau. Many barges have to wait for berth space."
All ICDs are limiting drop-off time for containers and services for container yards, according to the spokesperson.
He added that some carriers have blanked sailing to avoid the long waiting times in Ho Chi Minh City and Vung Tau and noted that "The situation is expected to improve once Covid-19 cases decrease and the government will lift prevailing restrictions and all activities can resume."
IHS Markit's AIS data shows that currently, 34 container ships are in the key southern Vietnamese ports of Ho Chi Minh, Cai Mep and Vung Tau, including the anchorages.
Linerlytica analyst Tan Hua Joo, however, told Container News that the bottleneck in southern Vietnam is nowhere near what was seen in China's Yantian terminal in June. Dozens of ships were stuck around Yantian due to a Covid-19 outbreak in Guangdong province, affecting more than 400,000 twenty-foot containers
Tan stated, "The number of container ships waiting at anchorage in South Vietnam remains small at the moment and hasn't approached the scale that was seen in South China in early June. The southern Vietnam ports have taken urgent measures to house essential workers within the port premises and they remain open for vessel operations although inland transportation restrictions have resulted in yard congestion, with slower terminal operations expected to cause vessel delays in the coming days."
Although export volumes remain high, Tan expects them to be hit in the coming weeks as the factory closures start to have an impact, with some vessel omissions expected to be implemented.
This month, two suppliers to US sportswear giant Nike, Changshin Vietnam and Pou Chen Corp., suspended production in their factories in Ho Chi Minh City, on orders from the Vietnamese government.
Source : Container News