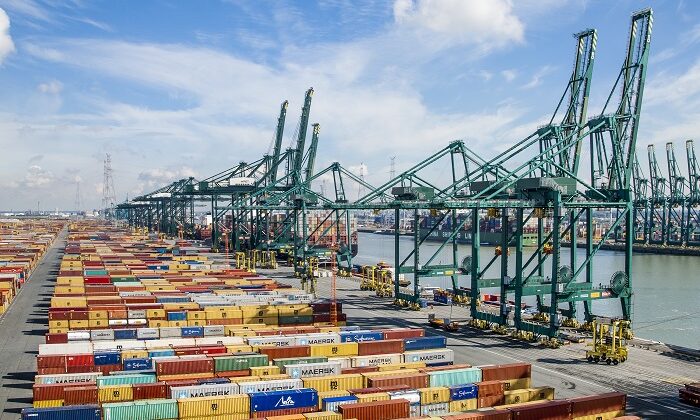 Port of Antwerp-Bruges throughput hit by macroeconomics, war
ANTWERP : First quarter throughput at the Port of Antwerp-Bruges dropped by 4.5% on-year, reflecting changing European trade flows.
The port said that Q1 throughput of 68.7m tonnes was due to continuing geopolitical and macroeconomic complexities, which in turn brought lower container throughput and shifts in cargo.
Container throughput fell by 6.6% in weight terms and 5.7% in TEU terms compared to Q1 2022. Russia-related cargoes were down by two-thirds due to the war in Ukraine, and the easing of global container congestion has brought lower demand and cancelled sailings, said the port.
The liquid bulk segment posted an increase of 0.5% as LNG throughput rose 23.3%, with increases also seen in diesel, bunker oil and energy gases. Chemical throughput rose during the quarter but was still 21.3% down on-year.
A 19.8% drop in conventional breakbulk throughput represents a return to pre-pandemic levels, the port said, a strong Q1 2022 rather than a weak Q1 2023.
Dry bulk throughput fell 7.3%, led by the largest product category – fertilisers. Fertiliser production eased in recent quarters as energy prices rose, and although production has increased since March 2023, throughput of fertilisers was still down 26.4% during the first quarter. The European energy crisis offered some support, tripling throughput of coal.
As the world's largest car port, 904,901 new cars were shipped in and out, up 7.2% from Q1 2022. This contributed to an increase of throughput of equipment by 4.3%, while unaccompanied cargo (excluding containers) fell -2.4%.
Jacques Vandermeiren, CEO Port of Antwerp-Bruges, said: "These results show that the world port is at the centre of a continuously challenging geopolitical and macroeconomic context. But despite these disappointing figures, the outlook for 2023 remains positive. Falling energy prices, an improving Chinese economy and signs that the liner market is also picking up are reasons to be confident about the future. Moreover, the complementarity of the two port platforms allows us to better respond to shifts in cargo flows."
Annick De Ridder, Port Alderman of the City of Antwerp and Chairman of the Port of Antwerp-Bruges Board of Directors, said: "Investments in strategic infrastructure such as the modernisation of the Europa Terminal are indispensable to ensure our position as a world port and to live up to our role as the economic engine of Flanders. Filling the many vacancies is a significant challenge in this regard. To this end, we will soon launch a promotional campaign and a digital job platform together with our partners."