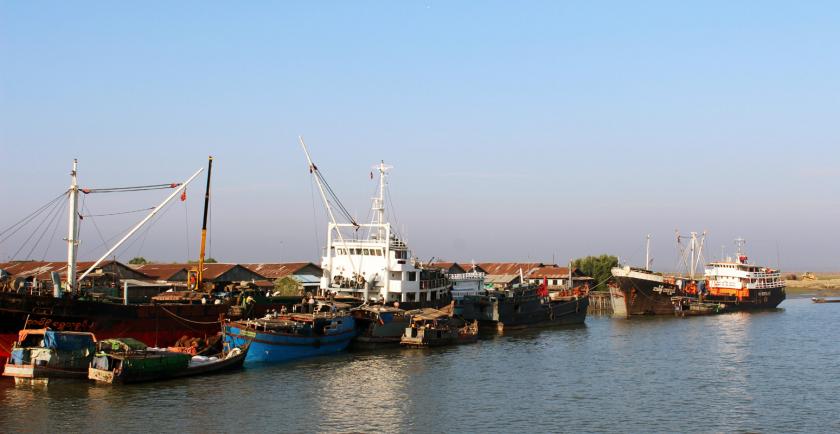 Sittwe-Chittagong Coastal Shipping Plan is yet to be implemented
CHITTAGONG : In order to increase the Myanmar-Bangladesh bilateral trades, the plan to run a coastal shipping line from Rakhine State's capital city Sittwe to Bangladesh's Port city Chittagong was taken, but even after more than a year, it has not been implemented.
The traders from both the countries agreed to initiative and they are still waiting since June 2022 for functioning of the Sittwe-Chittagong shipping line.
But U Tin Aung Oo, Chairman of Rakhine State Chamber of Commerce and Industry (RSCCI), recently stated that Myanmar's inland shipping department is still reviewing the bilateral agreement.
In order to operate the shipping line, nine traders from Bangladesh (led by Bangla ambassador and Bangla consul in Sittwe) and 27 traders from Rakhine State (led by RSCCI) assembled for a discussion in a Sittwe hotel on 17 and 18 June 2022.
The shipping line will connect the Sittwe port, recently built by India, with the Chittagong port.
Currently, the goods from Myanmar are being sent to Teknaf jetty in Bangladesh through Kanyin Chaung border trade station in Maungdaw and Shwe Mingang border trade station in Sittwe.
The border trade is allowed only through the Teknaf point over Naff river. So the traders from both the neighbouring countries have to spend more amount of money and it makes the affair costly.
A Sittwe-based merchant revealed that they are facing difficulties in transporting goods to Bangladesh as it's allowed to use Teknaf jetty only.
"Exporting goods from Teknaf  to Chittagong by the cars cost more money. Once we get opportunities to ship our goods to Chittagong, it will be easier for me. So if we are allowed to use a separate shipping
line it will reduce our expenditure," he added.
Chittagong port remains an active junction for the Myanmar-Bangladesh border trades. So using that port for our activities, we will get advantage with the increases volume of trades.
Bangladesh, with a population of over 165 million, is a very large market for the Burmese traders.
But due to the government's centralized system, only a few agricultural products like ginger, onion, chili, turmeric, freshwater fish etc are now being exported to Bangladesh. Hence the Rakhine traders believe that the Sittwe-Chittagong Coastal Shipping Plan will benefit them along with the mainland traders.