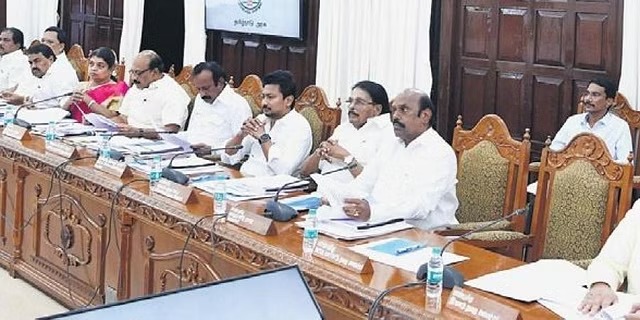 Tamil Nadu Cabinet approves projects worth 7,000 INR-Crore
CHENNAI : Tamil Nadu Cabinet, on Tuesday, October 31, approved "structured packages" for eight projects worth 7,000 INR-Crore. These projects include various fields ranging from electronic vehicle components to footwear, glass manufacturing, and aerospace.
The projects approved by the cabinet are as follows:
Taiwan's Hong Fu Industrial to set up a non-leather manufacturing facility in Panapakkam, Ranipet district.
Pou Chen, Feng Tay, and Kothari-Phoenix Group will be investing approximately 6000 INR-Crore for the set up of non-leather footwear manufacturing units in Kallakurichi, Ranipet, Bargur, Cheyyar, and Tindivanam.
The government aims to set up these non-leather footwear manufacturing units in 20 locations (especially in rural areas) over three years. These projects are estimated to attract a revenue of 20,000 INR-Crore by 2025.
Saint Gobain, the French glassmaker, to set up a new manufacturing plant in Kanchipuram district. The company will invest approximately 3400 INR-Crore in various businesses like solar glass and glass wool.
Seoyon E-Hwa Mobility, a South Korean firm, will develop an EV component manufacturing unit in Krishnagiri district.
The cabinet is promoting the Hosur-Krishnagiri-Dharmapuri (HKD) region as the hub of the EV sector for companies like Ather, Ola, and Simple Energy to set up their shops.
The state also approved structured investment packages for Mylan Laboratories, Sundaram Fasteners, and International Aerospace Manufacturing Private Limited.
A joint venture between Rolls Royce and Hindustan Aeronautics Limited – IAMPL, will expand its manufacturing facility in Hosur near Bengaluru.
The cabinet also approved the Tamil Nadu States Port Development Policy, encouraging the development of small ports in the state in Private-Public Partnership (PPP) Mode. This new policy will help in the development of 17 small ports boasting a 1076-km coastline. These investments together are estimated to generate job opportunities for approximately 22,000 people.