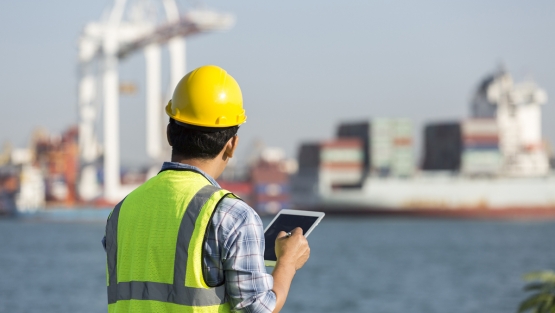 Technology will help Maritime Transport navigate through the pandemic—and beyond, says World Bank Group
.
WASHINGTON: Maritime transport is the backbone of the global economy, accounting for over 90% of cross-border trade. And like most other industries, shipping is being rapidly transformed by a range of technology innovations that aim to make operations greener, cheaper, and more efficient. At the same time, the COVID-19 pandemic has upended maritime transport and created unprecedented challenges for professionals across the sector. Against this backdrop, how can we tap the full potential of technology to create a more sustainable, more resilient shipping industry? What are the potential impacts and policy implications?
To answer this, the National University of Singapore and Nanyang Technological University recently published a joint study on the Impact of Disruptive Technologies on Maritime Trade and Industry. Our team at the World Bank's Infrastructure and Urban Hub in Singapore had the opportunity to discuss these issues with the authors and provide some input.
Based on this exchange, there are three key takeaways that I think can help frame the conversation on maritime transport and technology.
COVID-19 has underscored the importance of technology in the maritime sector
Even before the pandemic, maritime transport was facing growing pressure to transform.
On the environmental front, the International Maritime Organization (IMO) challenged the sector to reduce its total annual GHG emissions by at least 50% by 2050 compared to 2008 levels, which has boosted the search for clean and fuel-efficient technologies. The lockdowns and the resultant increase in air quality have illustrated the importance of clean technologies when transport resumes and the difference it can make to climate change and people's lives.
Technology can greatly improve the efficiency of maritime operations. Currently, shipping goods from a manufacturer to a consumer involves many stakeholders: transporters, ports, customs, etc. Much of the physical paperwork is handed over from one party to the next. This results in situations where goods may have arrived but the paperwork has not caught up. Integrated digital platforms such as Port Community Systems connect the systems of multiple organizations that make up a seaport community, including shipping lines and terminals. Unfortunately, less than a third of IMO members are currently equipped with these platforms.
Besides efficiency gains, digitization has the added benefit of minimizing the need for physical interactions—an important consideration in the context of COVID-19. The rise of e-documents, for instance, allows workers to complete formalities quickly without having to sign or hand over papers in person.
Additionally, COVID-19 has shown the importance of building resilience in the supply chain. A recent survey found that 93% of supply-chain leaders were planning to increase resilience. To lower risks, companies will likely seek to work with a larger, more diverse range of supply and transport partners, which will translate into more fragmentation. Technologies such as blockchain could be extremely helpful in navigating the complexity and streamlining operations.
International and national policymakers can facilitate the adoption of new technologies
Governments can lead the way by deploying relevant technologies. For example, Dubai has a strategy for blockchain and e-documents, aiming to eliminate more than 1 billion paper documents and unlocking US$5.5 billion in savings annually. Increased usage of technologies could drive adoption costs down for all parties.
Supportive policies and incentives help. Canada's Shore Power Technology for Ports Program is a great example. The Program provides up to 50% of the funding for bringing electricity from the shore to ships docked in a port, meaning ships stopping at select Canadian ports will be able to turn off their auxiliary diesel engines and rely instead on local electric power.
International organizations like IMO have established some policies to define the maximum amount of fuel each type of ship should burn for a certain cargo capacity. It is estimated that, by 2025, new ships will be built to be 30% more energy-efficient than those from 2014.
The fear of the unknown can tend to undermine the potential of technology. To address this, countries like the United Kingdom and India have piloted the use of regulatory sandboxes which are controlled environments, where regulators can safely test new technologies and business models and also determine how best to craft relevant policies. Singapore recently piloted the use of smart ships and drones in the maritime sector, testing these technologies on a small scale to understand their impact and adapt policy accordingly.
Partnerships make all the difference
Policy makers are partnering up with the private sector and academia across industry boundaries, in search of technological solutions that are also commercially viable.
For example, The Getting to Zero Coalition is an alliance of more than 120 companies and policymakers from the maritime, energy and financing sectors. The aim is to have commercially viable, zero-emission vessels in operation by 2030. The alliance pays special attention to zero-emission fuels, ships, market drivers to finance and de-risk new technologies and supporting policies.
Several international companies and port authorities from different parts of the world recently signed a Memorandum of Understanding to ensure the inter-operability of various global maritime technology platforms, which will require developing common data standards and Application Programming Interfaces.
Academic institutions play an important role in developing and transferring technology. As part of this, Maritime Technologies Cooperation Centers (MTTCs) have come together under the Global MTTC Network to help developing countries access the technical knowledge they need in order to decrease emissions from shipping.
Institutions like the Dutch Research Council also encourage collaboration between academia, companies and authorities to better understand, utilize and protect oceans, seas and rivers. Projects funded by the Council include research on sustainable ship designs and electrification technologies.
Technology will have a critical role in addressing some of the key challenges facing the maritime sector, from COVID-19 to climate. But technological innovation alone cannot change the game. To realize the full potential of technology, government and transport leaders need to create the right conditions, provide adequate incentives, and support the exchange of knowledge around the world. Stakeholders across the sector will have to play their part and cooperate effectively—when it comes to the future of shipping, we are all in the same boat!