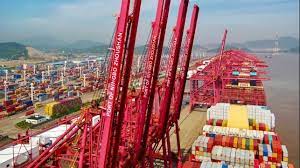 Third-largest port in the world remains partially shut down; Industry reacts

---
NINGBO : The world's third-busiest port, Ningbo-Zhoushan in China, remains partially shut down as investors and US markets assess potential economic reactions. The closure could lead to new disruptions in global trade, stalling economic recovery.
Meishan, a key terminal at the Ningbo-Zhoushan port, was shut down on Wednesday 11 August after an employee tested positive for COVID-19.
In an interview with Capital.com, Han Ning, director and country manager for China with global maritime research and consulting services firm Drewry, said the port will allow trucks to collect containers beginning 25 August, and will fully reopen on 1 September.
A massive COVID test has been carried out with no new cases found, and the port is preparing for a gradual reopening soon, she said. For vessels entering Chinese ports, "no quarantine is needed, but the ships must not have had any crew changes in the last 14 days, and must also submit negative COVID test results."
Strategic port
China's Ningbo-Zhoushan port has connections to more than 600 companies in 100 countries around the world. It managed 28.72 million 20-foot-equivalent units of container in 2020. Its position is therefore vitally strategic to Chinese trade with both Europe and America.
Dee Kivett, CEO and president at NextGen Supply Chain Integrators in Greenville, South Carolina, US, told Capital.com the shutdown of Ningbo-Zhoushan sounds a warning bell to the global shipping industry. "Expect industries worldwide to begin shifting their purchasing habits in anticipation of more closures and disruptions," she said.
Kivett added, "Uncertainty in demand makes it impossible for them to hedge against delays in the Chinese supply chain by buying additional inventories, and with reports of closures due to the emerging Delta variant spanning everything from schools to industrial manufacturers, expect a small uptick in panic buying patterns seen during the onset of the quarantines in 2020."
Asian market update
In early trading on Thursday in Asia, Hong Kong's Hang Seng fell 2.1% and the Shanghai Composite dipped 0.6%, while the Tokyo Nikkei 225 fell 1.1%
Source : capital.com
---