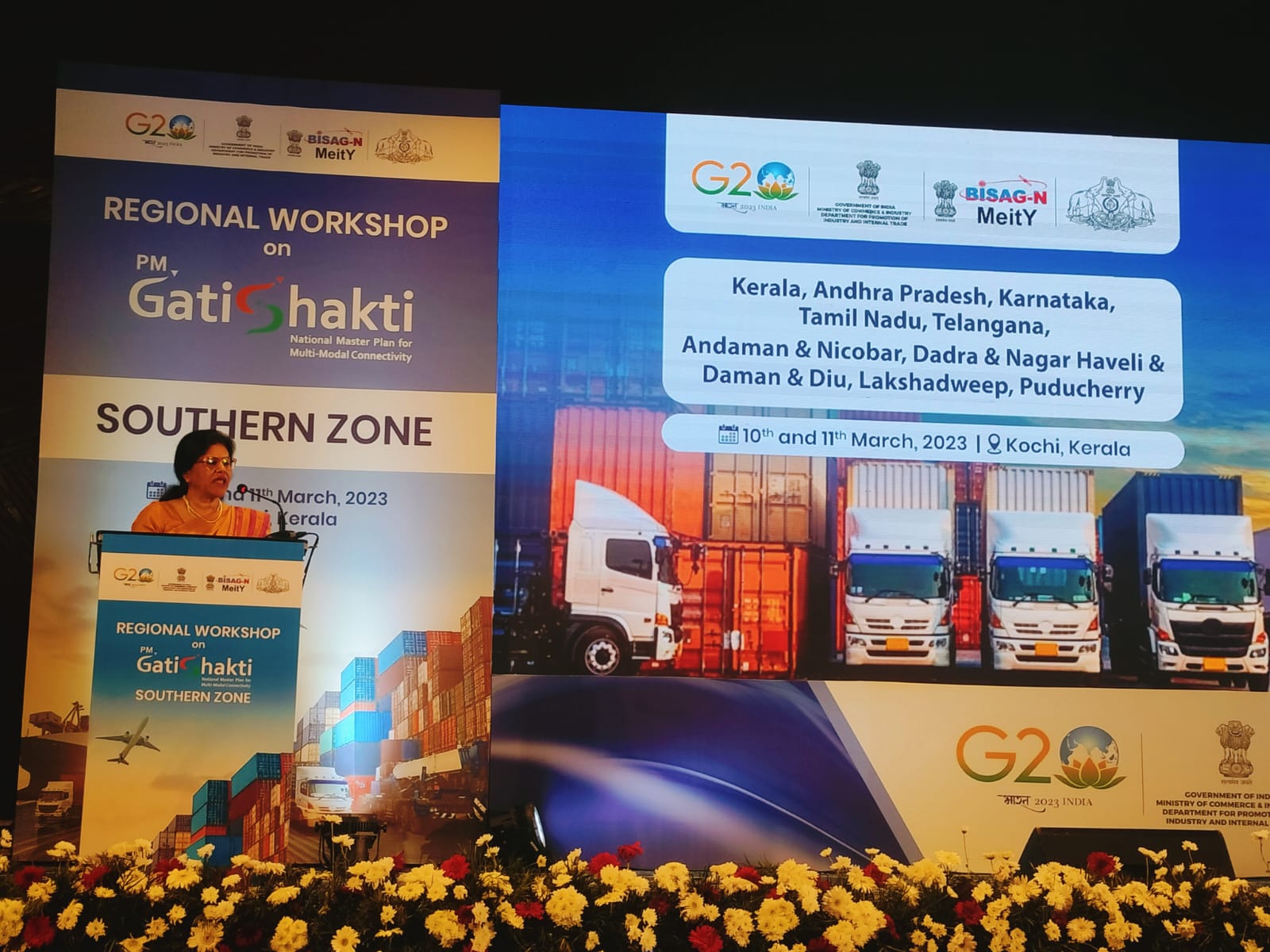 Two-day Southern Zone Regional Workshop on PM Gati Shakti National Master Plan concluded in Kochi
KOCHI : Department for Promotion of Industry and Internal Trade (DPIIT) under Union Ministry of Commerce and Industry organized two-day regional workshop on Prime Minister Gati Shakti National Master Plan (NMP) for Southern Region held at Hotel Meridian, Kochi
The organized two-day regional workshop concluded. Representatives of the states of Kerala, Karnataka, Andhra Pradesh, Telangana, Tamil Nadu and Union Territories including Andaman and Nicobar Islands, Puducherry, Lakshadweep, Dadra, Nagar Haveli and Daman Diu and senior government officials from various central ministries and departments participated in the workshop.
A series of Regional Workshops is being organized in an extensive manner to sensitize State officials in all States and Union Territories about the PM Gatishakti National Master Plan (NMP) platform. The workshop in Kochi is the second of the five Regional Workshops being planned across the country. The first regional workshop was held in Goa on February 20, 2023.
The second day of the workshop featured discussions on National Freight Movement Policy, State Freight Movement Policies, Freight Movement in various States (Leeds) and City Freight Movement Plan.
Cochin Port Authority made a presentation on enhancing port connectivity and multi-modal connectivity through PMGS. Subsequently, the panel held discussions with Kochi, Kamarajar Visakhapatnam and New Mangalore Port. The day's program also included a visit to Kochi port to study port connectivity and coastal projects.
In the closing ceremony, Ms. Sumita Davra, Special Secretary, Logistics, Central Government Department, DPIIT, appealed to the States and Union Territories to engage regularly with business associations and stakeholders to identify issues related to cost reduction and efficiency in logistics. They recommended that an inter-departmental service improvement group be set up to address freight movement and related issues and identify priority areas related to infrastructure for multi-modal connectivity, take interventions and formulate action plans to reduce logistics costs.
To get a demand-based logistics efficiency approach for the next 5-10 years, she mentioned mapping of freight flows, attracting private investments in logistics-related infrastructure and onboarding start-ups to promote logistics efficiency.
She also emphasized on the use of technology and green initiatives while planning the freight movement ecosystem, including (i) planning for infrastructure development for New India and (ii) developing an efficient logistics ecosystem.
The first day of the workshop organized discussions on infrastructure development and social sector planning, demonstration on adoption of Pradhan Mantri Gati Shakti scheme with holistic approach, demonstration of best practices of State/Union Territories and presentation of Unified Logistics Interface Platform (ULIP) to showcase various logistics components related to deployment of services and equipment.
KSIDC, ADM, Sri Ratheesh S, KIIFB, Kerala Project Consultant Dr. Tony Rajan Mathew shared the best practices of Kerala. She also explained that the Sabarimala Greenfield Airport project has been included in the National Master Plan.
Workshops are organized by Department of Industry and Domestic Trade Promotion in collaboration with States/UTs. It aims to energize and create synergy among the stakeholders of the PM Gati Shakti National Master Plan (NMP). Regional workshops also focus on strengthening the institutional framework of State Technical Support Units (TSU) for comprehensive planning. Identification of common challenges and issues in adoption and implementation of PM Gati Shakti National Master Plan and discussions on district level planning framework for adoption of PM Gati Shakti are also areas of focus.
Empowered Group of Secretaries (EGoS), Network Planning Group (NPG) and Technical Support Unit (TSU) have been constituted by 36 states/UTs for comprehensive planning and project implementation of PM Gati Shakti National Master Plan.