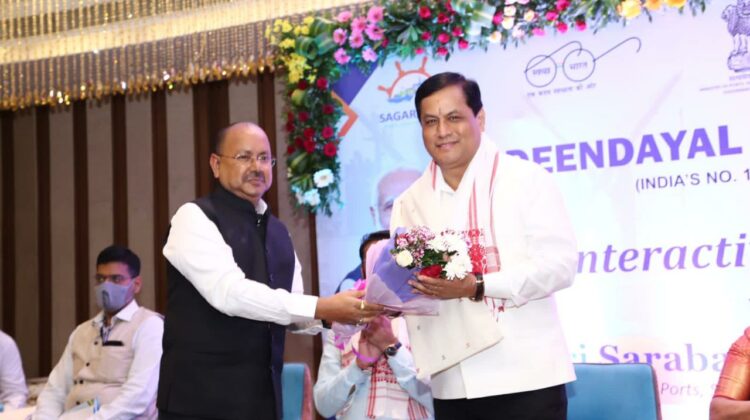 Union Shipping Minister Reviews and appreciates performance of Deendayal Port Trust and held interactive meeting with DPT stakeholders
Shri Sarbananda Sonowal, Hon'ble Minister for Ports, Shipping & Waterways and AYUSH reviewed the Performance of Deendayal Port Trust during the Presentation given by Shri S.K. Mehta, IFS, Chairman on progress of Infrastructure Projects, Traffic Projections, Mega Port Development Projects in the presence of Hon'ble Speaker-Gujarat Vidhansabha, Hon'ble MP-Kutch, Hon'ble MLA-Gandhidham.
While addressing the trade partners of Deendayal Port Trust in an interactive session on Monday, the Hon'ble Union Minister for Ports, Shipping & Waterways and AYUSH Shri Sarbananda Sonowal highlighted the importance of the port-led development and creation of further infrastructure under the Gati Shakti National Master Plan recently launched by the Hon'ble Prime Minister Shri Narendra Modi.
The Gati Shakti programme marks a paradigm shift in decision making to break the silos of departmentalism. In the proposed Plan, all the existing and proposed economic zones have been mapped along with the multimodal connectivity infrastructure in a single platform. Individual projects of different line Ministries would be examined and sanctioned in future within the parameters of the overall Plan, leading to synchronisation of efforts. Gati Shakti will bring synergy to create a world class, seamless multi-modal transport network in India. The National Master Plan will employ modern technology and the latest IT tools for coordinated planning of infrastructure. A GIS-based Enterprise Resource Planning system with 200+ layers for evidence-based decision-making is one example. The use of satellite imagery for monitoring is another. Digitisation will play a big role in ensuring timely clearances and flagging potential issues, and in project monitoring as well.
An efficient logistics network is one necessary condition. Another one is achieving economies of scale in manufacturing. Industrial parks and logistics parks need to grow in size to be globally competitive. The National Industrial Corridor Development Corporation (NICDC), formerly DMIDC will work in close coordination with state governments to develop these industrial corridors. The projects will be designed and executed with a common vision and will incorporate the infrastructure schemes of various ministries and state governments such as the Bharatmala road project, Sagarmala waterways plan, ports and the UDAN scheme.
Shri Sonowal, further addressing to the various issues voiced by the trade, emphasised on the effective partnership between various agencies involved in the port operation as well as the other links of the logistics chain. The Hon'ble Minister also highlighted the various endeavours taken by the Deendayal Port Trust to create infrastructure with a view to reduce Turn-Around Time (TAT) of ships under the Guidance of MoPSW and the various measures like implementation of projects like e-Drishti, a RFID based access control system, implementation of a cloud based ERP which have been initiated by DPT for achieving the goal of Ease of Doing Business (EoDB).