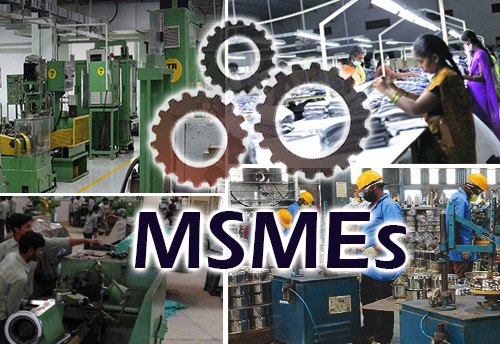 'Vivad Se Vishwas Scheme' approves over 10,000 claims worth Rs 256 Crore for MSMEs within six months of launch
NEW DELHI : In a significant development benefiting Micro, Small, and Medium Enterprises (MSMEs), various Ministries and Departments of the Government of India have approved over 10,000 claims from MSMEs under the Vivad se Vishwas – I Scheme, according to a press release by Ministry of Finance.
This initiative was designed to offer relief to MSMEs during the challenging period of the COVID-19 pandemic. As a result, more than Rs 256 crore has been disbursed to MSMEs, and there has been an increased flow of bank credit due to the release of guarantees, the release said.
Dispute resolution scheme for MSMEs: The Vivad Se Vishwas I – Relief for MSMEs scheme introduced by Finance Minister Shri Nirmala Sitharaman in this year's budget to settle pending disputes related to government contracts during the Covid pandemic has accepted more than 10,000 claims by MSMEs, the finance ministry said. This has led to a grant of more than Rs 256 crore to MSMEs and increased flow of bank credit through freeing up of guarantees, the ministry said in a statement highlighting the top five ministries in terms of claims settled and amount paid to MSMEs. 
The highest relief amount of Rs 116.47 crore was granted by the Ministry of Petroleum and Natural Gas (MoPNG) in 2,807 claims accepted. This included the claims settled and the amount paid by the agencies under the administrative control of the MoPNG.
The other top four ministries were railways with Rs 79.16 crore amount paid and 2,090 claims settled, defence with Rs 23.45 crore paid and 424 claims settled, steel with Rs 14.48 crore paid and 244 claims settled, and power with Rs 6.69 crore paid and 119 claims settled.
The scheme was launched in April this year through the Government e-Marketplace (GeM) portal for the submission of claims for relief. The last date to file submission was July 31. MSMEs which were unable to execute government contracts during the Covid period were allowed a 95 per cent refund of the performance security, 95 per cent of the bid security, 95 per cent of the liquidated damages (LD), and 95 per cent of the risk purchase amount forfeited or deducted under the scheme.
For claim filing, the original delivery period of the contract or completion period stipulated in the contract had to be between February 19, 2020, and March 31, 2022. Moreover, only the government-registered MSMEs were allowed under the scheme with details including contract number, contracting authority, paying authority and the deducted amount with respect to the contract applicable with the respective procuring entity.