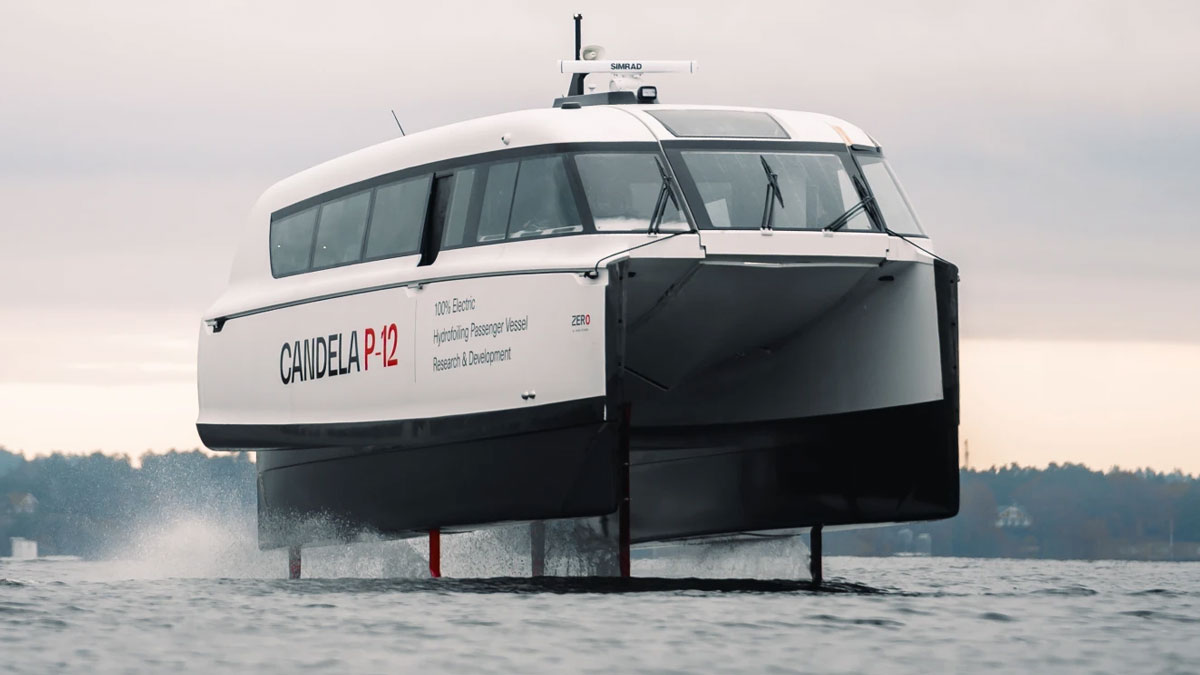 World's first electric flying passenger ship takes off, enters production
STOCKHOLM : In a breakthrough advancement for sustainable maritime transport, Swedish tech company Candela Technology AB announced that the Candela P-12, the world's first electric hydrofoiling passenger vessel, has successfully completed test flights in Stockholm. It is now progressing into serial production at Candela's Rotebro factory.
First announced in concept form in June 2022, the P-12 employs computer-guided hydrofoils to elevate its hull above water friction. When foilborne at speeds over 18 knots, the Candela P-12 consumes 80% less energy than traditional high-speed vessels. This innovation addresses the primary challenges that have hindered the widespread adoption of electric, fast vessels to date: limited range and slow speeds due to the excessive energy consumption of conventional hulls.

During its first flights, Candela P-12 confirmed its top speed of 30 knots, a record for electric passenger vessels. With a range of up to 50 nautical miles, it is also the first electric ship with the practical endurance to cover most coastal transport needs.

Tests also confirmed the minimal wake, which opens up for exemptions from speed limits, as the P-12 will neither erode coastlines nor damage docks and moored ships, even at full speed.

Going Sustainable, Profitably

Maritime transport represents 3% of global CO2 emissions, a figure projected to grow to 13% in the coming decades if no action is taken. High hopes are therefore placed on electric vessels, with the market for electric ships estimated to hit US$ 31.48 billion by 3034.

Still, electric vessel adoption today is extremely low, even on urban and coastal waterways, due to their high cost and limited performance.

Candela is committed to accelerating the shift towards a fossil fuel-free maritime future. Besides its game-changing range and speed, the P-12 is engineered to offer similar or lower initial investment costs for operators while boosting profits compared to traditional Internal Combustion Engine (ICE) vessels.

Priced at €1.7 million, the 30-seat Shuttle variant of the P-12 matches the cost of similar-sized ICE vessels and is priced significantly lower than other electric options. This is possible thanks to its hydrofoil efficiency, which enables an extended range from a modest 252 kWh battery. Combined with a streamlined serial production, this leads to industry-low overall unit costs.

Erik Eklund, Candela's Director for Commercial Vessels, emphasizes, "With the P-12, we're not just offering a faster, more comfortable electric alternative to fossil fuel-powered vessels. We enable operators to make the switch to sustainable vessels that are cost-effective and profitable, a crucial step towards clean oceans and lakes."

Once in service, operators can expect reduced 'fuel' costs by up to 90% compared to diesel vessels. The C-POD motors require minimal servicing, and the vessel is designed for single crew operation, which further slashes costs.

In total, the P-12 is expected to cut costs per passenger kilometer by up to 50%, achieving a similar operational per-passenger economy as a hybrid electric bus.